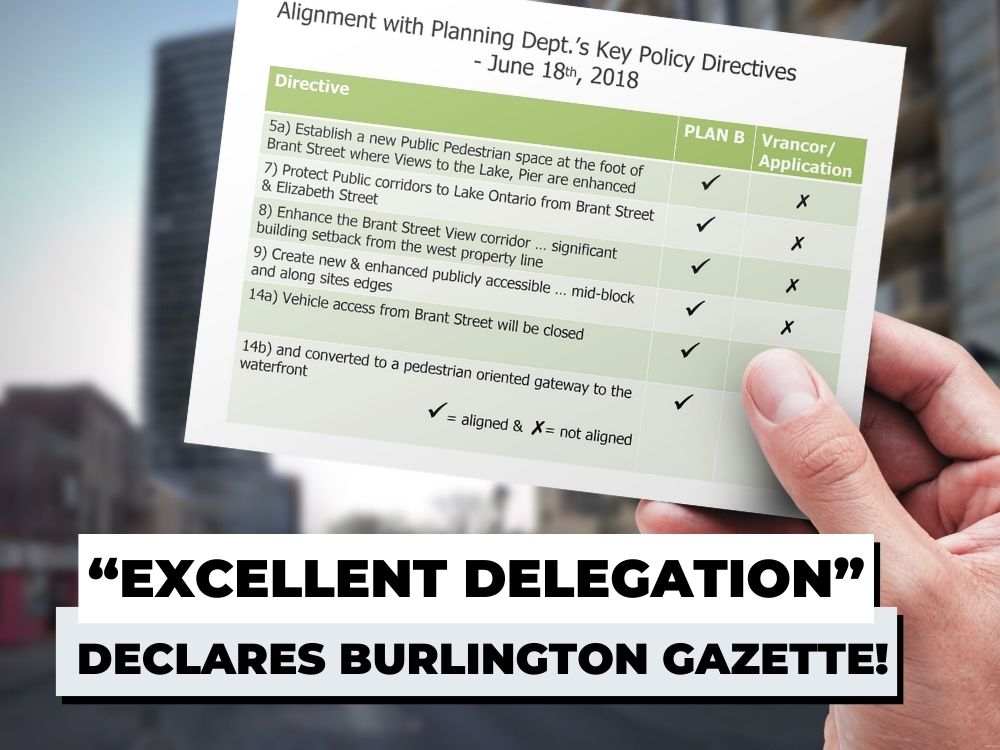 Tuesday, February 22nd was the scheduled date for Burlington's Statutory Public meeting on the Waterfront Hotel redevelopment application, and Citizens' PLAN B delegated forcefully at it, amongst others.
To summarize, we demonstrated in detail how much the developer has remained silent or ignored most public input and recommendations, including the Waterfront Planning Study (PB-23-18), Burlington Urban Design Advisory Committee and PLAN B. We noted that the application relies heavily on UGC/ MTSA designations downtown to justify intensification, assuming that an incomplete application submitted on October 26th has been grandfathered by the November 10th ROPA 48 order.
We recommended the following:
Reject

the Applicant's request to eliminate the Waterfront Hotel Planning Study as a prerequisite of this application.

Accept with Modifications

the Applicant's proposed Zoning Bylaw Amendments to fit his application. What modifications, you ask? All, but not limited to, that public input and recommendations from the planning study, BUD panel & PLAN B that the developer has ignored. If this file is ultimately headed to the Ontario Land Tribunal, we reasoned that the City would be rewarded for seeking a win-win solution.
Check it out and let us know if you agree with the Burlington Gazette's rating!
Our detailed presentation and video of the meeting are all available on www.burlington.ca